Free Web Page Creator
Do It Yourself Website Design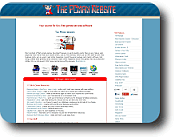 Answer some simple questions to create your very own webpages online. No knowledge of HTML or Word Processing needed. Our system uses advanced features like Cascading Style Sheets, custom color selections, Internet Explorer mouse-over effects, and custom image selections using your own logo and images. Choose font face style and color, we even included meta tags to get ranked by the search engines!
You can use your own page file names. Select the alignment of the images and headings. We provide you with 11 hyperlinks to your other pages including one for free games pages. We give clear instructions at each step. When you have finished using the FREE Online Web Page Creator filling in the selections, click the "Preview Page" button. If it's ok click "Step 2 >>" you can save your webpage using the "Download Page(Save)" button on the Finish page. Background music support. Start to create today!
FREE Web Page Creator
Choose from our many quick loading templates.
Preview your page at each step.
Usage of Cascading Style Sheets(CSS) and colored scroll bars.
Internet Explorer mouse-over effects.
Choose colors for the Background, Link Menu, Body Text, and Link Text.
3 sections with headings, text, images and auto installed image "alt" text.
Make you own logo and add background music if you wish.
Use your own background images.
Choose from many different typeface styles.
Menus with up to 11 text hyperlinks.
You can Add our games to your site.
Meta tags for search engine ranking.
Tips and hints to help you along the way.
Make your webpage here and if it suits your needs then great. If by chance you like the basic idea but have additional needs above and beyond what this system can deliver then we will gladly work with you to
design
or change the page to suit your needs. Please use the form to obtain more information or an estimate for additional services.
Please Read This:
Pick and choose the features you want to include on your page. Not all of the selections need to be used. This program requires any browser to use the features it supports. Click here to see
sample pages
made with the
Web Page Creator
. Add our FREE arcade games page to your site.
FAQ Page | Website Templates | Choose a Host | Web Page Editor | Logo Generator | FREE Webmaster Tools
The PCman's FREE Online Webpage Creator
Step 1 - Site Info
Some Info:
Page Address - A page like the homepage would be index.html (the homepage is always index).
To create a website
you are making a
web site
with more than 1 page, we have pre-named the links with different addresses. You will want to link the pages to each other using the links in the navigation menu, we have pre-named addresses of the pages. For advanced users write down your desired addresses now (piece of paper?) before you start, so you can fill in the addresses later on in Step 3, the Links Section. There are 11 links, 8 you can name, plus one for home, contact and free games pages if you want them, more about that later.
New features are always added so check back often.
Thank you for visiting the best site on the web!
This site is always updated
Copyright ©1999-2014 The PCman Website
Site Map | Links | Terms | Tell a Friend | Forum | Privacy | Mail List | The PCman's Store