The PCman's FREE WAP Images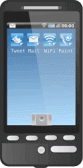 FREE WAP Images to download and use on your WAP pages, they are wbmp images the type used on WAP wml pages. Choose your favorite pictures then download the images to your hard drive for uploading to your server by right clicking on the corresponding link(s) and choosing "Save Target As...". Download them this way because your computer is most likely not set up to view a wbmp image or wml pages. The images on this page are gifs shown as examples of the wbmp images they represent, wbmp images only work on a WAP page being viewed using a wireless device or emulator. Free wap images wbmp for wml.
FREE WAP Tools | FREE Logo Creator | FREE Webmaster tools
The PCman's FREE WAP Image Pictures
Some pictures were created by unknown authors in the public domain.
New features are always added so check back often.
Thank you for visiting the best site on the web!
This site is always updated
Copyright ©1999-2014 The PCman Website
Site Map | Links | Terms | Tell a Friend | Forum | Privacy | Mail List | The PCman's Store