The PCman's FREE Computer Virus Help and Recovery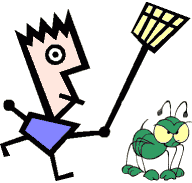 FREE Computer Virus Help and Recovery is a resource of free virus scanners, information and instructions to remove and clean viruses, worms and trojans from a computer and email with freeware downloads. There are many freeware scanners for download and online. Information on the latest viruses, worms, trojans and variants is available. Information on email protection and security testing is available. A resource of info is provided to fix, remove and clean infection from a computer.

What is a Virus?
A virus is a program or code that causes harm or inconvenience to a computer. Viruses are usually made to look like games or other desireable files.
What is a Worm?
Worms are viruses that multiply themselves. They often send themselves to other computers through emails to cause even more trouble.
What is a Trojan Horse?
A Trojan horse does not multiply to create more copies of itself. They sit in wait until they are ready to strike depending upon what their programming tells them to do.

The PCman's FREE Computer Virus Help and Recovery

Check out our Virus Scanner Test Page.
Virus Information
Virus List.com - information on current and past infections.
Stiller Research - Virus hoax database.
Virus or Hoax? - info on real and hoax infections
F Secure - info about hoaxes and real

FREE Virus Scanner Freeware
Antidote Super Lite Version - free virus scanner
AntiVir Personal Edition - download
Avast Home - freeware downloads
AVG - works very well, auto updates
BitDefender - for Windows and Mobile
McAfee Stinger Virus Remover - a standalone utility used to detect and remove specific viruses.
F-prot Antivirus - for Linux, BSD and Solaris
Panda Scan - online scanner cleans computer files
Symantec Security Check - checks online security
Trend Micro House Call - runs online in your browser
V Catch Basic - free virus scanner downloads
Virus Scan Integrater - use several scanners on the same file

Virus Removal Tools
BitDefender - for many different types of viruses
AnalogX Script Defender - intercepts harmful scripts being run
Help Removing a Virus - McAfee has a help forum

Email Protection
Email Spam Stopper - create code to stop email spam on web pages.
Mail Washer - delete viruses and spam on the server before download
GFI Email Security Testing Zone - they test your vulnerability
eTrust Content Inspection PE - blocks viruses and worms in emails
Upgrade Internet Explorer - latest versions have all of the bug fixes

Firewall
Agnitum Outpost Firewall - firewall with updates, internet security suite.
Zone Alarm - another great firewall program, needed for cable or DSL.

Secret Hidden User Info
Secret Hidden User Info - see what you are broadcasting over the web.

Spyware
PCPowerScan Free Download - Free PC Health Check to find bad files fast! How many corrupt and redundant files are lurking inside your PC ready to cause harmful errors? Find these harmful "time-bomb" files instantly and keep your computer ERROR FREE 24 hours a day! resource remove help repair fix clean
New features are always added so check back often.
Thank you for visiting the best site on the web!
This site is always updated
Copyright ©1999-2013 The PCman Website
Site Map | Links | Terms | Tell a Friend | Forum | Privacy | Mail List | The PCman's Store