FREE Logo Creator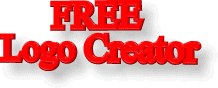 FREE Logo creator now create custom 3D logos, banners and headings for free it's easy. Simply enter your text, choose styles, fonts, colors and sizes, instantly view and download your free logo. Create as many custom logos and banners as you wish. There is also a FREE DOWNLOAD software version of the free logo creator for your home computer. Try this
free logo creator
online if you like it download the xara 3d free logo creator software.
We made our 3D logo and page image above using this program. Compared to the computer version this online generator just scratches the surface of what can be created!
We have a
webmaster tools
section to help create your website. The PCman's webmaster tools, download software to your computer for your website.
Click Here Now to Download Xara 3D for FREE!!
The PCman's FREE Custom 3D Logos and Banner Creator
New features are always added so check back often.
Thank you for visiting the best site on the web!
This site is always updated
Copyright ©1999-2015 The PCman Website
Site Map | Links | Terms | Tell a Friend | Forum | Privacy | Mail List | The PCman's Store