The PCman's FREE FormMail Form Generator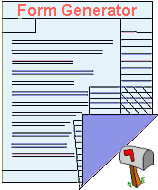 FREE FormMail.pl Form Generator easily create your own email and order forms online with simple directions and examples. Copy the source code or download the completed page, choose colors, fields, more. Use with Matt Wright's
FormMail.pl
or
FormMail.php
by Joseph Lumbroso. These free scripts are very common, simple to install (they come with directions) and easy to use, download them using the links provided. Many servers already have these scripts installed and all that you need are the forms to run them. Simple online email and order creator, download the source code or complete page.
FREE Webmaster Tools | FREE Online Logo Creator | Online Store
New features are always added so check back often.
Thank you for visiting the best site on the web!
This site is always updated
Copyright ©1999-2015 The PCman Website
Site Map | Links | Terms | Tell a Friend | Forum | Privacy | Mail List | The PCman's Store