The PCman's CSS
Colored Scroll Bar Style Sheet Generator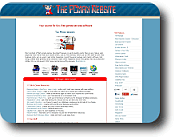 FREE CSS Cascading Style Sheet Code Generator to make colorful scroll bars. Complete with options and an extensive help section to guide you. Just choose your options then push "Generate >>" to get the code you created. Then just paste it into your web page between the head tags. See instructions on the next page. This style sheets software scheme is supported by IE5.5 and above.
More Free Webmaster Tools | FREE Logo Creator | Web Templates | Visit our Online Store
The PCman's Colored Scroll Bars Cascading Style Sheet Code Generator
Scroll Bar Attributes
This Colored Scroll Bars Style Sheets script
Powered by
The PCman Website Scripts
Cascading Style Sheet Generator Help
Colors?
Choose the colors you wish to use from our online color chart it is not required to use all of the choices. See the diagram for explanations showing what each of the attribute names are, since it would be hard to describe the choices with words.

Now that you have a basic understanding go back to the online generator.
New features are always added so check back often.
Thank you for visiting the best site on the web!
This site is always updated
Copyright ©1999-2015 The PCman Website
Site Map | Links | Terms | Tell a Friend | Forum | Privacy | Mail List | The PCman's Store