How to Copy Records and Tapes to CD Tutorial

How to Copy Records and Tapes to CD Tutorial is a simple to understand tutorial that explains what hardware and software you will need and how to copy tapes, records or most anything else to cd. The simple step by step directions explain the cable you will need and were to connect it to your computer and audio equipment. We use simple language to get you started using your computer to copy records and tapes to cd.
Play Games | Wallpaper | Fonts | Clipart | Cursors | Jokes | Greeting Cards
The PCman's Tutorial How to Copy Records and Tapes to CD
What You Will Need / Overview
First, we will tell you the necessary hardware, tapes, records and CD's. This tutorial assumes you have a Windows operating system on your computer.


You will need a computer with a CD burner or DVD burner that records CD-R discs. This way they will be compatible to play in most every CD or DVD player.


Next, you will need a stereo receiver or compact stereo system that has a line out, tape output or tape record output. You could use the headphone output if your stereo doesn't have any line level output but the sound will be noisier and have some background hiss. The line level output is the best way to go it provides the correct output to feed another piece of audio equipment.


You will also need for your computer to have a sound card with a line level input. In modern computers it is usually the small blue jack.


To connect the stereo to your computer you will need a stereo cable. Most of the time the line out jacks on the stereo are phono / RCA jacks. The input on your computer sound card is usually a stereo mini plug. So you will need a cable that has a stereo mini plug on one end and 2 plugs on the other end so you will have stereo sound. Stereo sound has 2 discrete signals one for the left and one for the right. It is not just one signal split into 2 plugs. The cable will need to be long enough to reach from the stereo to your sound card.


If you are copying a tape then obviously you will need a tape player, this can be connected to your stereo, or using the line out jacks can be connected to your sound card without a stereo. If you have a compact stereo it would most likely have a tape player built in.


If you are copying records your record player should be connected to your stereo


If you are copying records or albums you must connect it to a stereo with a phono input. The output from a record player is not at the correct level to feed a sound card and also the sound must be equalized, meaning it needs to be manipulated to have the proper fidelity.


To copy onto cd's you will need some blank CD-R discs.


Line Out jacks on back of a stereo and the connecting cable.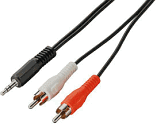 How to Connect the Hardware
Get the stereo connection cable plugging the end with the phono / RCA plugs into the line out jacks on your stereo unit. If you must use the headphone out get a cable with the appropriate stereo plug the fit your headphone jack.


Take the mini plug end and plug it into the line input jack on your computer's sound card. The line input is usually the blue jack, it should be labeled.



A diagram of the location of the line in jack on a sound card.
New features are always added so check back often.
Thank you for visiting the best site on the web!
This site is always updated
Copyright ©1999-2015 The PCman Website
Site Map | Links | Terms | Tell a Friend | Forum | Privacy | Mail List | The PCman's Store